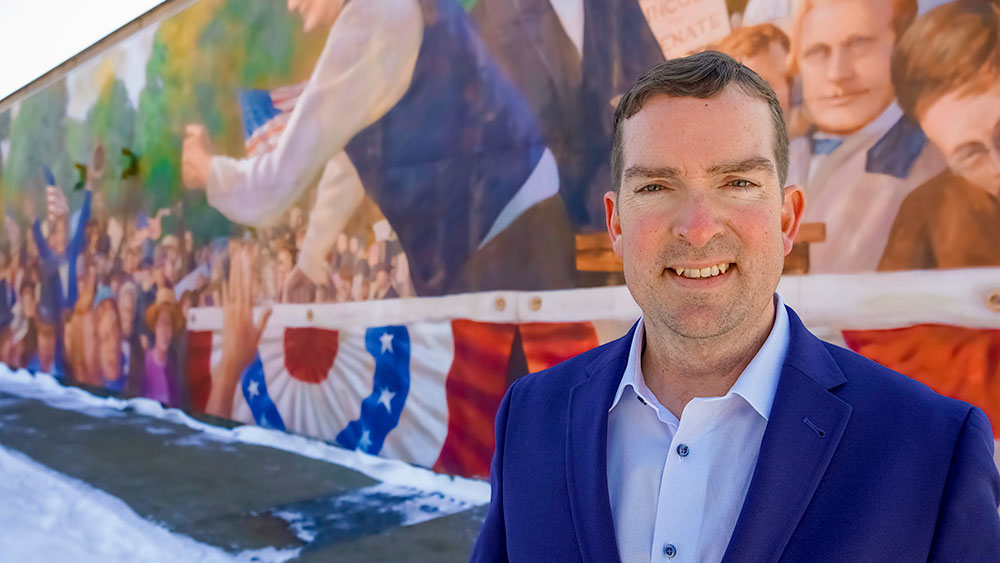 Scott Gryder has a long history of leadership for the citizens of Kendall County. Elected three times to Kendall County Board representing District 2, he currently serves as Chairman of the Kendall County Board.
Scott has called Kendall County home for most of his life, growing up in Plano, where his parents' involvement in civic and small business aspects of the community sparked Scott's interest in public service at a young age.
Scott is a graduate of Plano High School, holds a Bachelor's in Business Administration from the University of Illinois-Springfield, a Juris Doctor from DePaul College of Law, and earned a Public Affairs Certificate in Illinois County Government from the Leadership Academy at the University of Illinois Institute of Government & Public Affairs.
Currently President of Commercial Services and Senior Counsel at Near North Title Group, Scott is licensed to practice law in the state of Illinois, the US Northern District of Illinois, and is a Member of Federalist Society.
Political Experience
A member of the Illinois GOP executive Committee, Scott's enthusiasm for politics started early while interning for U.S. Senator Peter Fitzgerald, then in the office of Illinois Attorney General Jim Ryan. Scott's enthusiasm for grassroots organizing propelled him to Chair Kendall County's Young Republicans, the Federation of Illinois Young Republican's.
Scott's leadership has been an asset to Kendall County, where he served as Chair of the Kendall County Republican Central Committee and Kendall County GOP PAC and is currently a Republican Committeeman for Kendall County.
Civic Leadership
Scott's proven track record of working on behalf of his community includes service on the Illinois Complete Count Commission, Lisle Transportation Commission, Old Kendall County Courthouse Committee, Yorkville Zoning Board of Appeals, Oswego Plan Commission (Chair), Oswego Zoning Board of Appeals (Chair), Oswego Downtown Redevelopment Plan Commission, and the Chicago Metropolitan Agency for Planning MPO Policy Committee.
Scott was twice elected Trustee to the Oswego Library District, where he was Vice President of the Board.
On the Kendall County Board, Scott earned the confidence of his colleagues who have supported him, first as Vice Chairman, then as Chairman for three terms.
Currently the Chair of the Kendall County Highway Committee, during his tenure on the Board, Scott has also helmed the Kendall County Planning and Building Committee, and Zoning Committee, and served on the Economic Development Committee, Public Safety Committee, Veterans Assistance Commission, Finance Committee, Economic Development Committee, Forest Preserve Commission, Forest Preserve Ad Hoc Advisory Committee, and the Forest Preserve Finance Committee.
Volunteer Activity
Scott strongly believes in giving back to the community. As such, he is a Make a Wish Volunteer, serves on the Oswego Park Foundation Board of Directors, and the Fox Valley YMCA Board of Directors. He is an Oswego Prairiefest Sponsor and supports numerous other community events. He is a member of Raven Lodge in Oswego. He and his wife live in Oswego with their daughter.